Odor Impact Amino Acid Derivatives Found in Wine:
Another class of off-characters found as a consequence of yeast metabolic activity are the fusel compounds, alcohols, acids and aldehydes, derived from the degradation of amino acids via the Ehrlich pathway. These compounds can also be formed from the intermediates of amino acid biosynthesis. They are often precursors to the ester formation but can have direct impacts on the aroma of the wine. The foul nature of high concentrations of some of the alcohol forms led to the characterization of these compounds as fusel oils. The alcohol forms are definitely in the chemical taint family of compounds, but the acids and aldehydes can also be responsible for off-notes in the wine. In general, these compounds derive from the degradation of amino acids via the Ehrlich pathway or can come from biosynthetic intermediates formed during amino acid biosynthesis.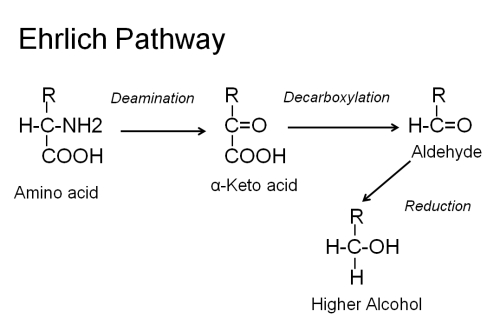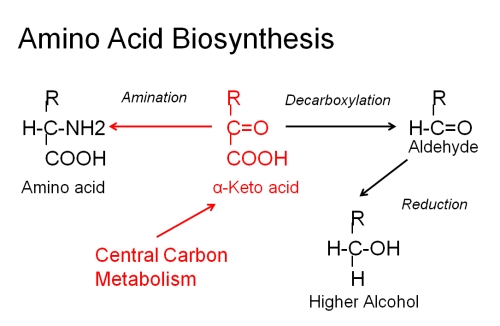 Like esters fusel compounds may have positive effects at low concentrations but are negative at high thresholds. The common fusel compounds are shown in the following table.
Amino Acid Derivatives Found in Wine
Amino Acid Precursor

Acid

Aldehyde

Alcohol

Branched Chain Amino Acids

Leucine

Isoleucine

Valine

3-Methylbutanoate

2-Methylbutanoate

2-Methylpropanoate

3-Methylbutanal

2-Methylbutanal

2-Methylpropanal

3-Methylbutanol (isoamyl alcohol)

2-Methylbutanol (d-amyl alcohol)

2-Methylpropanol (isobutanol)

Aromatic Amino Acids

Phenyalanine

Tyrosine

Tryptophan

2-Phenylacetic acid

3-Indoleacetic acid

Hydroxyphenylacetic acid

2-Phenylacetaldehyde

3-Indoleacetaldehyde

Hydroxyphenyl-acetaldehyde

Phenylethanol

Tyrosol

Tryptophol

S-Containing Amino Acids

Methionine

3-Methylthiopropanoate

Methional

Methionol

Other Amino Acids

Threonine

Propionate

1-Propanal

1-Propanol
The aroma descriptors of these compounds that are found in wine, their concentrations and putative threshold levels are given in the table below:
Descriptors and Concentrations of Amino Acid Derivatives Found in Wine
| | | | |
| --- | --- | --- | --- |
| Compound | Aroma Description | Concentration in Wine (µg/L) | Putative Thresholda(µg/L) |
| 3-Methylbutanoate | Bleu cheese |   | 3000 |
| 2-Methylbutanoate | Cheese, sweaty |   | 3000 |
| 2-Methylpropanoate | Cheese, rancid |   | 200000000 |
| 2-Phenylacetic acid | Pollen, flowery, roses |   |   |
| 3-Methylthiopropanoate | Chocolate, roasted |   |   |
| Propionate | Vinegar |   | 8100 |
| 2-Phenylacetaldehyde | Honey |   |   |
| Methional | Cereal, potato, soup-like |   |   |
| 3-Methylbutanol (isoamyl alcohol) | Nail polish, solvent |   | 30000 |
| 2-Methylbutanol (d-amyl alcohol) | Nail polish, solvent |   | 65000 |
| 2-Methylpropanol (isobutanol) | Solvent, chemical | 9000-175000 | 40000 |
| Phenylethanol | Floral, rose | 4000-200000 | 10000 |
| Methionol | Cabbage, potato, cauliflower | 140-5000 | 500 |
| 1-Propanol | Solvent, chemical | 9-68000 | 500000 |
1Thresholds vary by the matrix of the solution tested. The variation in number indicates different matrix conditions were evaluated.  Thresholds should always be viewed with caution.
2        nd= not detected
In general, the alcohols are the major species present in wine. Aldehydes can be found in wine under aging conditions if re-oxidation of the alcohols occurs. The aldehydes are as objectionable as their corresponding alcohols. The acid forms can also be found in wine. The aldehyde is the most toxic intermediate of keto acid degradation. The cell will either reduce the aldehyde to an alcohol or oxidize it to an acid as these forms are both less toxic than the aldehyde. Which form is made depends upon the availability of reduced cofactors in the cell. During fermentation reduced cofactors are generally plentiful so alcohols are made but under some conditions the acids will appear. Esters of the fusel acids and fusel alcohols can be found in wine. In other yeast species it is thought that the fusel compounds and their esters are population signaling molecules. This may be true in Saccharomyces as well.
If the total fusel alcohol level is below 300 mg/L the wine is described as fruity and pleasant containing peach and apricot aromas. Above 400 mg/L the wine becomes pungent with a strong foul chemical taste and aroma. In wine the total produced varies within this range, from less than 100 to greater than 500 mg/L. The individual compounds vary from 10-140 mg/L. The amounts formed show a strong stain dependence.