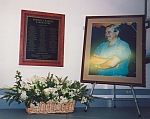 Within the Harry E. Jacob Research Facility is the Robert J. Barone Laboratory, made possible by Fisher Scientific International Inc. and many of the late Mr. Barone's friends. The company's very generous donation included scientific equipment and laboratory furniture. Fisher technicians installed all of the equipment and furniture donated by the company. 
Mr. Barone, a senior executive of Fisher Scientific and predecessors for nearly two decades, was a connoisseur of fine wines who loved California. "He would be proud to know that the laboratory named for him has dramatically enhanced the research capabilities of the Oakville Experimental Vineyard, making it the finest vineyard research facility in the world," said Paul M. Montrone, Chairman and Chief Executive Officer of Fisher Scientific and a close friend of Mr. Barone.
Mr. Barone was a native of Providence, R.I., and a graduate of the University of Rhode Island. He served in the Army during the Vietnam War and was awarded the Bronze Star. He joined Wheelabrator-Frye Inc. at its Hampton, N.H., headquarters in 1975 as Director of Employee Benefits. After Wheelabrator merged with California-based Signal Companies, Inc. in 1983, he was appointed Vice President, Administration of the Signal Engineered Products Group. In 1984 he advanced to Senior Vice President, with responsibility for all nonfinancial staff functions of the group.
Mr. Barone was elected Vice President, Administrative Services of AlliedSignal Inc. after the company was created in the 1985 merger of Signal and Allied Corporation. The following year he was elected a Managing Director of the Henley Group, Inc., a large AlliedSignal spin-off comprising 35 businesses.
During the Henley years, Mr. Barone directed the administrative activities of the parent company as well as those of several new public entities formed by Henley, including Fisher Scientific. He lived in Rancho Santa Fe, Calif., when Henley was headquartered in nearby La Jolla in the mid-1980s.
Mr. Barone passed away in September 1995.