Innovating with T.J. Rodgers and the Cypress Semiconductor team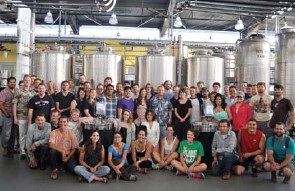 Some of the key factors drawing attention to the new UC Davis Teaching and Research Winery are the 152 200-liter stainless steel fermentors, each individually equipped for automated control of temperature and the "pump-over" process during red winemaking. Each fermentor also has a newly-developed sensor that precisely measures sugar concentration data and transmits this data wirelessly to a central computer. None of this development would have taken place without a key collaboration between UC Davis and T.J. Rodgers, founder and CEO of Cypress Semiconductor, who put together the team to design and build these fermentors and then gifted them to the university. With an investment of over $3 million in equipment and engineering, some donors might have been content. However, it is clear that Rodgers has a passion for innovation and a passion for winemaking that drives him to continue to create new technology. He and his team recently delivered the third generation of controllers to the winery that integrate all functions into one device. In addition, T.J. Rodgers is currently funding two fellowships in Electrical Engineering for graduate students to work on developing the next generation of sensors for advanced wine processing. The type of sustained engagement and collaborative innovation that this project represents will be key to the continued success of UC Davis and the Califonia wine industry.
Jerry Lohr: an array of contributions, a unique impact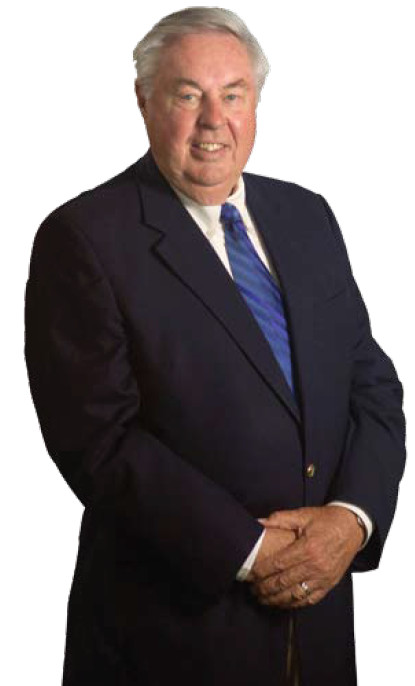 Jerry Lohr is a man of many talents: civil engineer, land developer, builder, winemaker, and philanthropist. His winery, J. Lohr Vineyards & Wines, has a strong reputation for producing quality wines at an affordable price, and he has proven to be an ardent supporter of sustainable vineyard and winery practices. Lohr (pictured left) has also been an ardent supporter of the Department of Viticulture and Enology in an amazing array of ways. Lohr has been a member of the Board of Visitors and Fellows and is currently serving as its chair. He has been active in the design, planning, and fundraising for the campus winery campaign. When, during design, it looked as if the winery fermentation room would be too small, he further contributed to the project to expand the area to a workable size. When the department decided to make the winery a LEED Platinum facility, Lohr contributed again to bring the dream closer to reality and helped us raise funds for the rest of the costs. He has supported various research projects within the department, providing financial support to students. Lohr's support of the department is far beyond financial, however, for he gives richly of his time and talents, frequently driving for hours to attend building design meetings or give advice on equipment and operations. In 2007, Lohr was honored by the College of Agricultural and Environmental Sciences at UC Davis with a prestigious Award of Distinction. His tremendous contributions to the department continue, as does their impact on the future of the department.
Rossi Estate gift enables innovation
The department received $12.5 million from the estate of siblings Louise Rossi and Ray Rossi, a UC Davis alumnus. This gift came in addition to the family's previously established Rossi prize, which benefits viticulture and enology students from the Napa Valley. This landmark gift is one of the largest donations ever made to UC Davis and the department and it will establish a perpetual source of funding for research projects focused on improving sustainable production practices and enhancing grape and wine flavor. The the Rossi Endowment has already financed the purchase of equipment in the winery and the faculty have recently decided to establish two endowed chairs, the Louise Rossi Endowed Chair in Viticulture and Enology and the Ray Rossi Endowed Chair in Viticulture and Enology, each at $2 million, in honor of the Rossis. These endowed chairs, the largest endowed chairs in the Department, will be used by their holders to support research focused on sustainable winemaking and grape growing. Their gift is further recognized with the Rossi Terrace, which overlooks the courtyard of the campus's Robert Mondavi Institute for Wine and Food Science, and the Rossi Heritage Block in our vineyard, with California heritage varieties farmed sustainably, as the Rossis farmed.