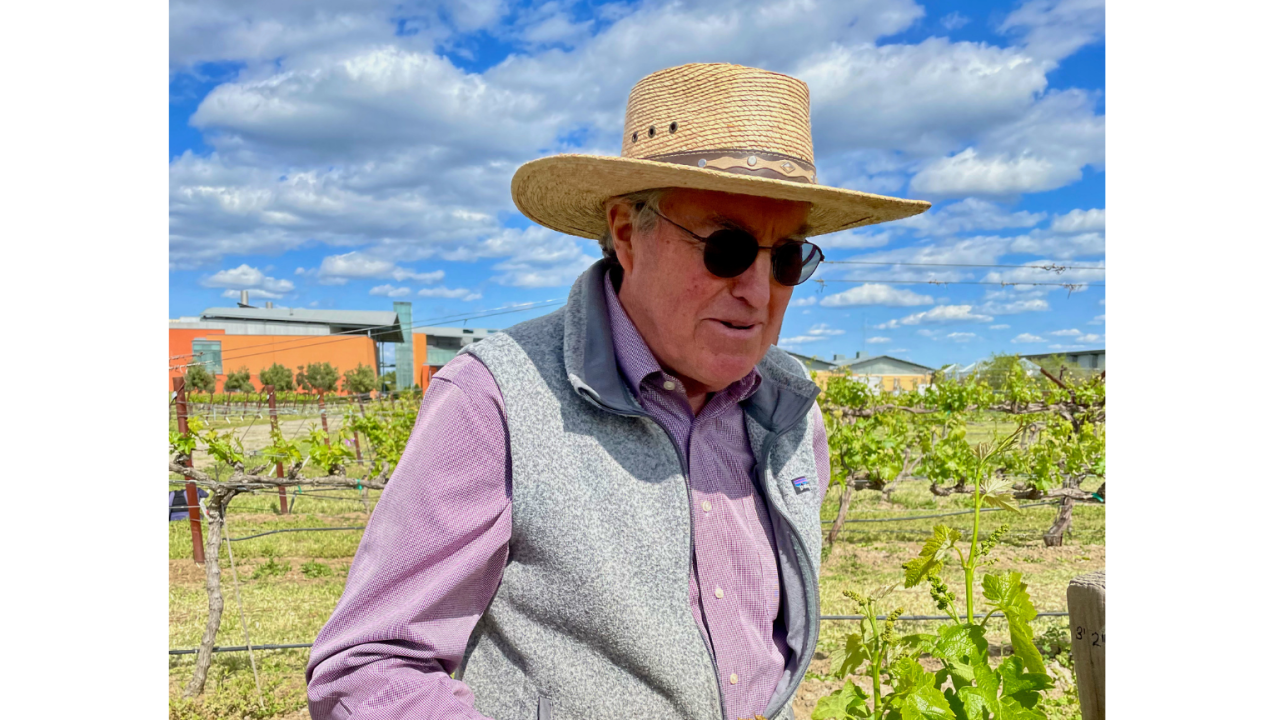 Location
UC Davis Conference Center
The Department of Viticulture and Enology at UC Davis will be celebrating the academic career of Andy Walker on May 19, 2022, from 9:00 am to 5:00 pm, with a seminar and reception honoring Andy, at the UC Davis Conference Center.  The general theme of the day will be "The past, present, and future of viticulture and grape breeding."
 
Speakers will address many different parts of the viticulture and grape breeding continuum.  From the history of phylloxera, the grapevine collection, and the evolution of grape breeding to grapevine physiology. Experience how research can lead to industry implementation. Speakers include Hans Walter Peterson, Jean Dodson Peterson, Glenn McGourty, Chris Chen, Peter Cousins, Jonathan Ruel, and more! Not only will they take a short trip down memory lane, but they will show how new knowledge can help the grape growing industry adapt to the ever-changing environment and where future research may take us. Speaking of the future, we will also introduce the new grape breeder in the UC Davis Department of Viticulture and Enology.
LOCATION
This is a hybrid event. Attendees have the option of attending in-person at the Conference Center on the UC Davis Campus, or by live stream.
AGENDA
9:00 am
Welcome and Introduction
David E. Block, Chair and Professor, Department of Viticulture & Enology, UC Davis
Moderators: Andy Walker, Professor Emeritus, Department of Viticulture & Enology, UC Davis 
Anita Oberholster, Vice-Chair and Associate Professor of Cooperative Extension, Enology, Department of Viticulture and Enology, UC Davis
9:10 am
How to play in the dirt and still make a living
Jean Dodson Peterson, Associate Professor, Viticulture, California Polytechnic University, San Luis Obispo
9:25 am
Go East Young Man:  How Andy Walker prepared me to succeed in the wild west of eastern viticulture
Hans Walter-Peterson, Viticulture Extension Specialist, Finger Lakes Grape Program, Cornell Cooperative Extension
9:45 - 10:30 am
Panel of educators:  Glenn McGourty, Karl Lund, Chris Chen and Eric Wada
Completely random observations and probability of the career of Dr. Andy Walker
Glenn McGourty, Supervisor, District 1, Mendocino County and UCCE Viticulture Farm Advisor Emeritus (Mendocino and Lake Counties)
Andy Walker, long road trips, Phylloxera reproduction, and best paper awards
Karl Lund, UCCE Viticulture Farm Advisor (Madera, Mariposa, and Merced Counties)
A Former Student's Perspective on the Career of Andy Walker
Chris Chen, UCCE Viticulture Farm Advisor (Sonoma, Mendocino, and Lake Counties)
Species Boundaries in Vitis
Eric Wada, Professor of Biology, Folsom Lake College
10:30 am
BREAK
10:45 am
From Rootstock Breeder to Grant Manager: Working in the Pest Management Grants Program at the Department of Pesticide Regulation
Andy Viet Nguyen, Environmental Scientist, Pest Management Grants Program, CA Department of Pesticide Regulation
11:00 am
UC Grape collection: Past and future
Nancy Sweet, FPS Historian, UC Davis
11:15 am -12:00 pm
A look to the future:  Samuel Barros, Peter Cousins, and Luis Diaz
Snapshots from Chile
Samuel Barros, Head of the Wine-Grapes Program at UNIVIVEROS Nursery, Viticulture Consultant, Chile
Grape Breeding and Genetics: Adventure, Application, Aspiration, and Andy Walker
Peter Cousins, Grape Breeder, Winegrowing Research, E & J Gallo Winery
From cranberry marshes to valley vineyards
Luis Diaz, Grape Breeder, Department of Viticulture & Enology, UC Davis
12:00 -1:15 pm
LUNCH
1:15 - 2:00 pm
Industry Perspective: Kristin Lowe, Aaron Fishleder, Lise Asimont, and Jon Ruel
Viticulture Lessons and Stories 
Kristin Lowe, President, Vine Balance Consulting
West of Highway 1
Aaron Fishleder, Vice President of Operations, Cakebread Cellars
Grapevine breeding, bluegrass music and putting family first: How Dr. Walker created a generation of viticulturists
Lise Asimont, Vice President, Grower Relations, Foley Family Wines
It's hard to kill a grapevine
Jon Ruel, CEO, Trefethen Family Vineyards
2:00 pm
Deep in the heart of Texas: Travels with Andy
Claire Heinitz, Curator, National Plant Germplasm System, Parlier, CA
Emeriti Collaborators
2:15 pm
Andy chasing creepy crawlers (Phylloxera)
Jeffrey Granett, Professor Emeritus, Department of Entomology and Nematology, UC Davis

2:25 pm
Nematode-resistant rootstocks
Howard Ferris, Professor Emeritus, Department of Entomology and Nematology, UC Davis
2:35-2:50 pm
BREAK

2:50 -3:35 pm
The Walker Lab-most recent lab members
From pre-breeding to end product: life in the table grape industry
Karla Huerta, R & D Technologist, SNFL Group, Fresno, CA

From Winemaking to Grape Breeding: A 20 Year Journey
Alan Tenscher, Consultant, Napa, CA
Persistence, Commitment, and Diligence: Traits I honed from the Master
Summaira Riaz, Research Geneticist, Crop Diseases, Pests, and Genetics Research, USDA, Parlier, CA
Precision breeding and the wish to sequence Andy's genes
Cecilia Aguero, Specialist, Department of Plant Sciences, UC Davis
3:35 pm
Wrap-up
Andy Walker and Anita Oberholster
4:00 pm
Reception
---
LOCATION
UC Davis Conference Center, 550 Alumni Lane, Davis

REGISTRATION
$150 (IN-PERSON OR LIVESTREAM)
 
ACCOMMODATIONS
If you need a hotel room, you can reserve one at the Hyatt Place Davis for $189/night before taxes and fees. This rate includes parking and breakfast.  
 
HEALTH AND SAFETY PROTOCOLS
The following is required of all event attendees:
Visitors are required to complete a Daily Symptom Survey prior to entering facilities on campus. You will be asked to show proof of this survey when checking-in at the event.
Non-vaccinated individuals are required to wear face coverings indoors and outdoors in crowded spaces.
For more information about current campus policies for visitors, please visit: https://campusready.ucdavis.edu/visitors
Guidelines are subject to change at any time as the COVID-19 situation evolves. We will be sure to communicate any changes as they occur.
CANCELLATIONS AND REFUNDS
If you are feeling under the weather, exhibiting any possible symptoms of COVID-19, or have been exposed to a positive COVID-19 case within the last 10 days, we ask that you stay home and do not attend the event. We will provide refunds for COVID-19 related reasons or transfer your payment to a future event. If you need to cancel for a COVID-19 related reason, please email cjfirman@ucdavis.edu.
Event Category