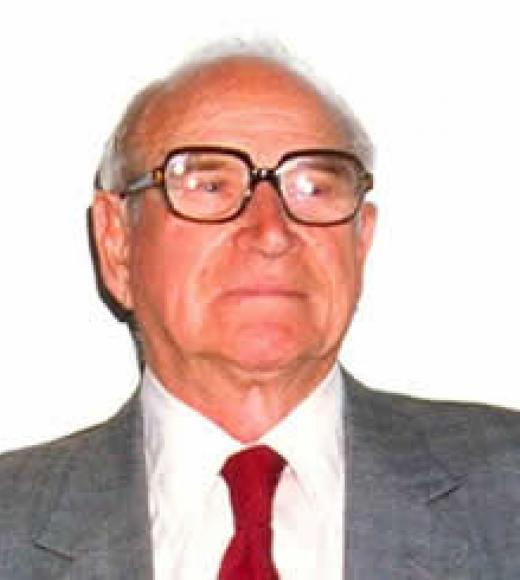 Harold P. Olmo
Bio
(1909-2006)
Harold P. Olmo died June 30, 2006 from complications after breaking a hip. Harold was a grape breeder and geneticist. His breeding efforts were broadly focused and he developed wine, table, raisin, and juice grape varieties. He also worked on improving disease and pest resistance, and on better understanding the complex genetics of the grape species. He had a zealous interest in everything related to grape cultivars from their cultivation and history, to the species from which they evolved. Harold was widely regarded as one of the world's foremost viticulturists, and grape growers; scientists everywhere recount his visits and what he did to help with their grape growing problems.
Harold was born in San Francisco in 1910 and grew up with strong horticultural interests. He sold flowers, fruits, and vegetables that he grew while growing up and later attended the University of California at Berkeley, where he earned his B.S. degree in horticulture in 1931. After graduating, Harold became an Associate in the Experiment Station in the spring of 1933. In 1934, he earned his Ph.D. in genetics from UC Berkeley, and in 1938, he joined the Division of Viticulture as an assistant professor of viticulture. Harold retired in 1977 with a legion of awards and merits, which continued to be bestowed upon him during his emeritus years.
In 1931 Harold made his first recorded cross, Muscat of Alexandria x Black Corinth, the first out of 76 crosses for that year and a pace he continued throughout his career at UC Davis. His breeding efforts led to the release of 29 grape varieties and 2 rootstocks. His most widely planted varieties are the table grapes Redglobe, Ruby Seedless, and Perlette, the wine grape Ruby Cabernet, and the juice grape Rubired. In 2005, these five varieties occupied over 38,000 acres in California alone. Upon retirement, he began breeding grapes for Marko Zanninovich, Inc. and patented several new table grape varieties from this work. He donated hundreds of thousands of dollars in patent royalties from his varieties back to the Department of Viticulture and Enology where the endowment is used to assist new faculty and fund graduate students.
Although Harold was one of the world's best-known grape breeders, his research career covered many other areas. He traveled widely to advise on viticultural practices and the establishment and redevelopment of vineyard areas. He worked for the Food and Agriculture Organization of the United Nations on projects in India and Afghanistan, and consulted through Eastern and Western Europe, South America, and Australia. Harold was also an ampelographer – an expert in the art of grapevine identification. Ampelography depends upon detailed observation of leaf and cluster appearance. In Harold's day, overnight shipping did not exist, and the samples growers would send him were frequently decayed beyond recognition during transit. To solve this problem Harold created a huge seed collection so that he could compare seeds from the rotted fruit with those of known standards. He collected hundreds of grape varieties and species on his travels, and his collection later became the core of the United States Department of Agricultural National Grape Germplasm Repository located in Winters, California, one of the world's finest grape collections. Harold's germplasm interests are also well documented in the Brooks and Olmo "Register of Fruit and Nut Varieties," a very popular reference now in its third edition that lists and details the cultivars of over 75 crop species.
As he accumulated grape germplasm for his breeding efforts, Harold became aware of the tremendous morphological and enological diversity that existed within wine grape varieties. He was one of the creators of what is now recognized as the most effective means of improving wine grape cultivars, namely clonal selection. When Harold began practicing clonal selection on Chardonnay (using clones that Louis Martini had collected) in California, it was an uncommon and unproductive variety. Today, largely because of his clonal selection efforts focused on improving fruit quality and productivity, Chardonnay is the most popular wine grape in the United States and is planted on almost 100,000 acres.
Harold's work on the introgression of the distantly related rotundifolia grape into the cultivated vinifera wine, table, and raisin grape is still timely 50 years after its inception; as is his work on the cytogenetics of these hybrids. The rotundifolia grape possesses very strong resistance to most of the pests and diseases that plague the commonly cultivated vinifera grape. However, these grapevines have very odd flavored fruit and a different chromosome number that leads to sterile hybrids. Harold recognized the tremendous potential of introgressing rotundifolia's disease resistance into vinifera grapes to produce hybrid types that would not require spraying for disease control or rootstocks to avoid soil-borne pests. He was able to create a few fertile hybrids and these continue to be used in molecular and classical breeding programs around the world. He also created the vinifera rotundifolia hybrid rootstock, O39-16, the only effective rootstock solution to fanleaf degeneration disease, a viral disease spread by a dagger nematode vector. This rootstock resists the feeding of fanleaf's vector, but does not prevent the virus from moving up through the vascular system and into the fruiting scion. However, the rotundifolia-based root system is able to induce tolerance to fanleaf infection and prevent its severe impact of fruit set and yields. This phenomenon is still under active study.
While Harold developed new varieties, he also experimented with novel methods to train and trellis them, and helped in the development of some of the first mechanical harvesters. In the 1960s, he pioneered the use of cane severance to produce dry-on-vine raisins that could be mechanically harvested, a practice that has gained favor with new plantings of early ripening raisin varieties. A modification of this technique was used to facilitate the mechanical harvesting of raisin grapes for drying on a continuous paper tray. These techniques will soon be used in the majority of raisin vineyards.
He long considered his most important contribution to be his role in formulating the grapevine clean stock program, from which properly identified, healthy, and productive selections of varieties are created, maintained and distributed to nurseries for later sale to growers. This concept of a Foundation collection and the creation of a clean stock program allowed the California grape industry to greatly improve its quality and productivity, and served as the model for clean stock programs around the world.
Harold received the Wilder Medal of American Pomology Society in 1958; the Laureate and Medal for Outstanding Contributions to World Viticulture by the Office of International de la Vigne et du Vin, in 1965; the Charter and Honorary Life Member, American Society for Enology and Viticulture in 1973; the Award of Merit by the American Pomology Society in 1974; the Papal Medal, Benemerenti by the Catholic Church in 1979; and the Rockefeller Spirit of Service Award, International, Executive Service Corps in 1993. He was a Guggenheim Fellow, Fulbright Scholar, and a consultant to the United Nations for over twenty years. However, it is likely that the contribution he will best be remembered for was his mentoring of countless students, colleagues, and viticulturists across the world.
Andy Walker

Nick Dokoozlian

Pete Christiansen

Amand Kasimatis