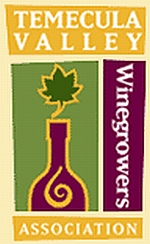 The Temecula Valley Wine Society was formed in 1983 with 3 purposes:
to educate adults
to assist the

Temecula Valley Winegrowers Association

to be the work force for the Riverside International Wine Competition.
Fundraising Efforts:
Funds are raised throughout the year for the Robert Norton Scholarship for qualified students in enology, viticulture and wine marketing.
The society has donated many wine related books to the Temecula Public Library.
The society has a fabulous cookbook out featuring wonderful recipes from members and Temecula Valley winery owners.
Activities:
The 10 program meetings a year consist of dinners at wineries and restaurants, bus tours to other wine areas, annual homemade wine, beer and olive event, evenings featuring single or multiple wine varietals.
There is a monthly Varietal Tasting for members to learn more about a single Varietal.
Members assist the Temcula Valley Winegrowers Association at their events by pouring wine, staffing registration tables, taking tickets and helping out with boutique and auction tables.
Newsletter:
The "Crush" is published monthly to inform members about T.V.W.S events, and other interesting information.
Membership:
Dues consist of a nominal fee for a one year membership.
Contact
:
Temecula Valley Wine Society
Sandy Brassard
Phone: 951-698-0484 Internet: WineSociety@temeculawines.org
The scholarship is open to students studying viticulture, enology, or wine marketing.