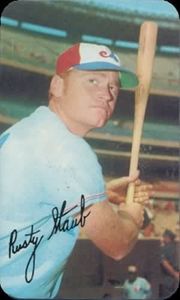 Few players in baseball have enjoyed the universal popularity of Rusty Staub, a 23-year veteran of the big leagues. The red-head from Louisiana was one of the first stars of the Houston Colt .45s, and became wildly popular while in Montreal and was nicknamed "Le Grande Orange" by his French speaking fans; he was a clutch post-season performer for the Mets, a run-producing machine for the Tigers, and spent his final few seasons back with the Mets becoming a record-setting pinch-hitter.
Staub built his career on a "practice-makes-perfect" philosphy. His short left-handed swing produced 2,716 hits and 1,466 RBI in a career that spanned from 1963 to 1985.
Rusty Staub retired from professional baseball at the age of 41. He ended his career as the only major league player to have 500 hits with four different teams. He and Ty Cobb share the distinction of being the only major league players to hit home runs both before turning 20 years old and after turning 40 years old.
He established the "Rusty Staub Foundation" to do charitable works that include supporting the New York Police and Fire Widows' and Children's Benefit Fund. The Foundation has been active in aiding New Yorkers who have been touched by tragedy on many levels.
The famed baseball player established the Rusty Staub Fellowship in Viticulture and Enology is 1990. It is his desire to support a graduate student planning a career in viticulture and enology, with preference given to students from New York.