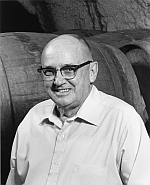 Myron S. Nightingale was a leading California winemaker for over four decades and was a former president of the American Society of Enology & Viticulture. Nightingale had served as winemaker emeritus at Beringer (now known as Foster's Wine Estates) since 1983. Beringer and Foster's still produce the Nightingale dessert wine that carry his name.
In 1983, he was awared the President's Award by the Los Angeles County Fair, only the second recipient in the Fair's then 56 year history. Nightingale passed away in 1988 at age 73.
Upon his death, the friends and family of Myron S. Nightingale created the Myron S. Nightingale Memorial Research Fund to honor his memory.
Tags