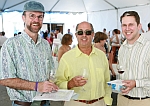 Michael Bonaccorsi was sommelier at Spago Restaurant in Beverly Hills and became the twentieth American to be awarded the Master Sommelier Diploma. The New York Times called him "possibly the best young sommelier in America." In 1999, Micheal and wife Jenne Lee Bonaccorsi formed the Bonaccorsi Wine Company. Michael died unexpectedly in January of 2004 at the age of 43. He was survived by his wife Jenne Lee, parents--Ralph and Lois, and 11 brothers and sisters.
The Michael Bonaccorsi Scholarship Fund was created by friends and family to honor the memory of this fine young winemaker. Jannis Swerman, Stephen Wallace, and Gary Fishman head up the team that has created the Central Coast Wine & Food Celebration, which benefits the Bonaccorsi Scholarship Fund.
Restaurants such as: The Hitching Post, Spago Beverly Hills, Bouchon, Campanile, Wolfgang Puck Catering, Literati II are just a few of the fine dining establishments providing exqusite fare for the tasting. Wineries such as: Sea Smoke, L'Aventure, Linne Calodo, Saxum, Ambullneo, Clos Mimi, and Presidio are a few of the wineries that bring their wines for the sampling. The Bonaccorsi Family also turns out in force for this warm and wonderful day of fine food and fine wines in remembrance of a fine man.
For further information regarding this event, visit our website and check the August calendar; the event is held on the first Sunday in August.
This endowment is to support a graduate or undergraduate student of good standing, who is studying viticulture and enology and has financial need.
Tags