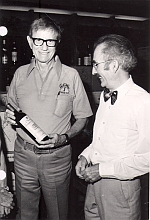 L.C. Jacobson teamed up with Del Webb in 1938. The two ex-carpenters took on jobs nobody else had tried and quickly gained a reputation for building them well and finishing them fast. The two ended up completing the construction on "Bugsy" Siegel's Flamenco Hotel in Las Vegas. Jacobson served as the president of Del Webb Corporation from 1962 to 1966, and it was Jacobson who put their corporation into the gambling business. A 1965 interview in Fortune Magazine quotes Jacobson as enjoying shooting dice and then deciding that it was time to get some of his money back!
Upon Jacobson's retirement from Del Webb, he embarked on developing Pinetop Lakes in Arizona. It was a goal of his to satisfy recreational needs of the public while protecting the environment. He built the golf course on 500 acres that had been destroyed by fire and utilized contouring and landscaping to improve the watershed capability of the land.
In 1979, Jacobson contacted V&E Department Chair, A. Dinsmoor Webb with his gift of over 300 cases of wine. The wine was from Jacobson's personal collection. The Jacobson Cellar in the department winery is named in honor of this colorful wine connoisseur.
"When my plans for the use and disposition of my wines changed during the past year," he explains, "I began a search for an institution that would appreciate them and assure me that they would be put to their highest and best use. The University of California at Davis was selected because of its outstanding viticulture and enology department" L.C. Jacobson.
Tags