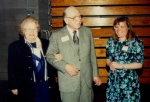 The Maynard A. Amerine Endowed Chair in Viticulture and Enology Department of Viticulture and Enology Agricultural and Environmental Sciences.
This is the first endowed chair position to be funded at UC Davis. It was established by Ernest Gallo via the Ernest Gallo Educational Trust, in 1978. Mr. Gallo was an active trustee minding the fund for many years. Mr. Gallo passed away in March of 2007, at age 90.
Ernest Gallo was one of America's wine pioneers. Along with his brother, Julio Gallo, he led the US wine industry out of the dark ages of Prohibition and into the modern era. His view was that wine was for everyone and he was probably more responsible for bringing wine to the table of the average American than any other single individual. Ernest Gallo was a marketing genius and brought forth many innovative wine products including Thunderbird Wine and Bartles and Jaymes Wine Coolers. His was a dear friend and is greatly missed.
List of Chairholders:
1st: Dewey D.Y. Rau 1981-1988
2nd: Michael Mullins 1988-1993
3rd: Linda Bisson 1993-Present
One of the more substantial ways to support the campus is through the establishment and naming of endowed chairs. In accordance with UCD Policy and Procedure, "It is the policy of UC Davis to attract and sustain outstanding scholars for key positions of faculty leadership through the establishment of endowed chairs…The holder of the endowed chair shall contribute to the scholarly activity and effective functioning of the academic unit in which he/she resides and, through teaching, seminars, or other intellectual contact with students, shall add to the enrichment of the academic life of the campus as a whole."
Tags