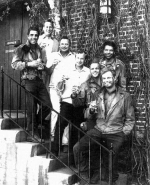 Adolf and Richie Heck bought Korbel in 1954 and set out to pioneer California style champagnes. Adolf led the company for over 30 years, and brought many innovative changes to the international world of champagne. He invented and patented the first automatic riddling machine which ensured consistent taste and quality of every sparkling bottle.
Innovators by heart, Adolf and Richie allowed the filming of the television series Combat on the Korbel Winery premises. This photo features: Pierre Jalbert, Ben Heck, Paul Heck, and Adolf Heck (center, white shirt), Jack Hogan, Dick Peabody (in rear), and Vic Morrow. It is reported that these location shoots were particular favorites of the cast and crew due to the hospitality provided by the Heck family.
Today, Korbel is managed by son Gary, who shares his father's passion and pride for the business.
The scholarship is to provide graduate level support for students in enology, with a preference towards those with an interest in champagne and "methode champenoise".
Tags